Fire Door Safety Week – The success of the 2017 campaign
2017's Fire Door Safety Week attracted its highest number of supporters ever, including 273 organisations from all parts of social housing, the private rented housing sector, the construction supply chain, fire and building consultancies and local fire and rescue services. This was a 54% increase on last year.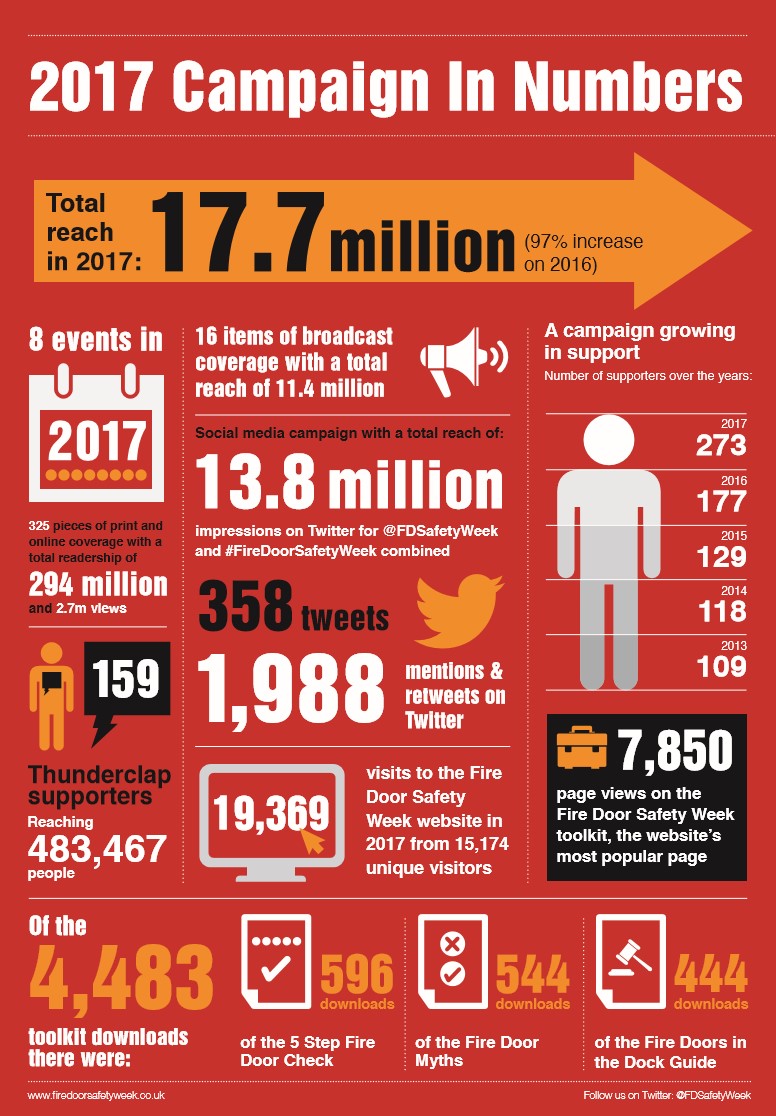 Among the high-profile supporters were London Fire Commissioner Dany Cotton, and Bill Grant, MP for Ayr, Carrick and Cumnock who had 31 years' service in the fire brigade.
Publicity for the campaign resulted in more than 350 pieces of media coverage, including in the Daily Telegraph and the Mirror newspapers, and 16 broadcast items including on Radio 5 Live, LBC, BBC Radio Leeds and talkRADIO.
The media coverage this year is estimated to have been actively read by 2.7 million people, with another 11.4 million tuning in to broadcast items and 3.6 million touched by the social media campaign. The total reach of 17.7 million is almost double that of last year.
There were also 19,369 visits to the Fire Door Safety website and 7,850 page views of the toolkit during the course of 2017. With particularly strong support on social, the 'Thunderclap' campaign alone achieved 159 supporters, reaching 483,467 people across both Twitter and Facebook.
Importantly, the campaign produced several essential pieces of content available for download from the Fire Door Safety Week website that will continue to be vital throughout 2018. For example, the downloadable Fire Door Safety toolkit provides a comprehensive overview of fire doors, including handy infographics and posters covering tips and safety checks for both landlords and tenants. Of the items in the toolkit, the most popular was the 5 Step Fire Door Check that has been downloaded 596 times so far this year.
The BWF also produced several hard-hitting videos on fire door safety,which provide viewers with behind the scenes insights covering how a fire door is made, how a fire door is tested and a simple 5 step fire door safety check that anyone can do. Extremely successful, to date the video series has achieved more than 96,000 views.
We are delighted to announce following Fire Door Safety Week that our own Hannah Mansell, our Fire Door lead at BWF, Chair of the Passive Fire Protection Forum and Trustee of the Childrens Burns Trust was awarded the prestigious ASFP Fellowship 'Advocate for Fire Safety' Award. More details here in recognition of her work on Fire Door Safety Week and tireless efforts to improve fire safety in the UK.