What is a fire door and how is it tested?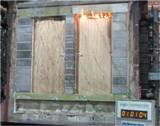 The term 'fire door' usually refers to a fire door leaf, the main component of a fire door assembly or doorset.
The door leaf is installed into a fire-rated frame, complete with its 'essential ironmongery' to make the door perform correctly in the event of a fire.
The door is tested as a complete assembly or doorset, and can only work correctly if installed using the same compatible components as when it was tested.
What is a Fire Doorset?


Fire doorsets are fire doors that are pre-assembled in their frame, and include all the correct components such as ironmongery and seals.
This guarantees that the entire doorset, including the individual components, will match the tested design. It also means that there is less room for error because the compatible components are in place, so you avoid the problem of having to source correct components individually.
What is a Fire Door Assembly?
The components of a fire door assembly are often sourced from different manufacturers, where you can select from a range of products, but they MUST be compatible with the door's test evidence. If any individual component gets damaged, it can be replaced from another supplier.
The correct components for a fire door assembly are listed in the manufacturers instructions (they are also often available on the individual company websites), and can be sourced from any BWF Approved Fire Door Centre or from companies listed in the BWF-CERTIFIRE Fire Door & Doorset Scheme directory.
What components should be fitted to a fire door?
A fire door is not just the door leaf. It is a complete assembly comprising the frame, any glazing, intumescent fire and smoke seals and all the ironmongery that is used on the door, such as hinges, overhead door closers, latches and locks.
'Essential Ironmongery' are those items that are indispensible to the correct performance of the door assembly. (Such as hinges, closers, locks and latches)
Every fire door can only be tested and certificated with all its components in place. They should be third-party certificated to ensure correct performance.
'Non- essential' ironmongery (such as viewers, letterplates) may also be fitted – but they must be correctly installed, in accordance with the door manufacturer's instructions.
In the event of a fire, a fire door will not work unless all the correct components have been fitted correctly and maintained.
The components must be compatible with the particular fire door assembly with which it has been tested – shown on the fire door manufacturer's installation instructions.
What happens if I get it wrong?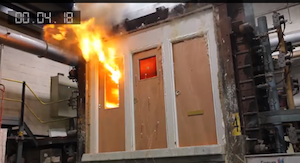 Small differences in detail such as glazing apertures, intumescent seals, door frames and ironmongery may significantly affect the performance of the door, as this video shows. (Click on the image to view)
The results of changing the specification or not fitting the correct components could be catastrophic.