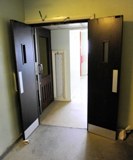 All of us who use or occupy any building have a right to expect that we will be safely protected should a fire break out. Sadly this is not always the case. Something may fail within the fabric of the building, or with the fire safety devices and tragedy occurs, causing death or serious injury
Fire doors are part of a building's PASSIVE fire protection system, an essential requirement for ALL public buildings, offices and factories.
They are also a requirement in certain domestic situations, such as:
in flats,
where a door leads into an integral garage, or
in any dwelling where there is a second floor 'habitable' room, such as houses with loft conversions or a 'room in the roof'.
All rooms in any of these situations are separated from other rooms, or compartmented, in order to:
keep any fire in the compartment in which it starts
protect the occupants (and contents) of other compartments
provide a safe, protected route to allow the occupants to escape.
The walls, ceilings, entrances and exits are therefore designed to resist the fire for a specified period of time.
The simple purpose of a fire door in every day use is just as any other door. However, since a breakout of fire is never predictable, the fire door, unlike any other door, must then perform its prime purpose – to protect lives and offer protection to the remainder of the building and to other buildings.