Door wedge sculpture warns of dangerous complacency in fire safety
Over four hot and breezy days in the late summer of 1666, London burned. It was not the only major fire the city had suffered by any means. But it was the blaze that made its mark on our national history, clearing the way for a significant large-scale redesign and rebuild of the city, and creating a new public and political attitude towards fire safety.
350 years later, another dramatic change of mind-set is required, according to the British Woodworking Federation (BWF) Certifire scheme and its partners involved in the award-winning Fire Door Safety Week campaign.
Speaking at the BWF-Certifire reception just a stone's throw from Pudding Lane in London on 2 September 2016 – the 350th anniversary of the start of the fire – David Oldfield, the scheme president and head of joinery at Arnold Laver, spelled out his concerns.
"For most of us, it is almost impossible to imagine the inferno or the devastation afterwards, but we can all perhaps picture that sleepy Saturday evening, going to bed with a quiet and well deserved restful Sunday on our minds. Fire doesn't happen 'til it does," said David.
"In 2016, as our cities continue to grow, the need to keep our residents and workers safe is just as important. Today's modern methods of building are designed to be inherently safe and incorporate various life saving devices. Products have been refined, upgraded and improved to ensure that, in the dreadful event of a fire, people can escape safely and quickly from a building. Buildings are also designed to ensure that our fire services can gain safe entry and quickly extinguish any fire before it spreads and that the disruption from fire is minimized.
"But we are worried that complacency has crept in, especially when it comes to the specification, installation, use and maintenance of fire doors to ensure compartmentation of a building. Design of passive fire protection is one thing, but delivery is everything."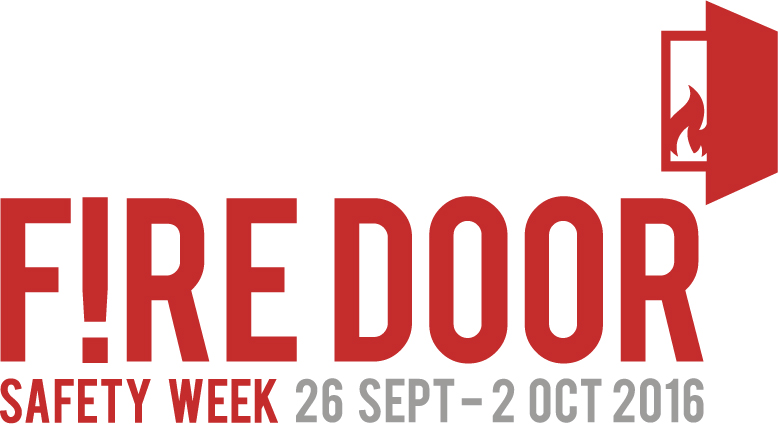 Through Fire Door Safety Week, which this year runs from 26 September – 2 October, the BWF-Certifire scheme and other supporters are raising awareness of the critical role that fire doors play in protecting property and saving lives and the need to stamp out bad practice.
They point to continuing non-compliance with the Regulatory Reform (Fire Safety) Order 2005, particularly within sectors of the housing market such as Homes of Multiple Occupation, flats over restaurants and takeaways, old and poorly maintained social housing tower blocks and private properties rented out by unscrupulous landlords who do nothing to ensure fire safety. The suspicion is that the poorest in society with the poorest housing options are probably the people most at risk– probably just the same as 350 years ago.
One of the most prevalent problems with fire doors is the casual, unthinking way they are frequently propped or wedged open. This obviously renders a fire door utterly useless. Consequently the BWF-Certifire scheme has been collecting misused door wedges as part of its social media #ClickItKickIt campaign.
Through the campaign, everyone using a building where they see a fire door wedged open is being urged to take a photo (Click It) to share on social media using the hashtag #ClickItKickIt, and then to kick the wedge away (Kick It) so the door can close, and report it to the building owner or manager. Many wedges have also been confiscated or donated to BWF-Certifire, with a financial donation made to the Children's Burns Trust by BWF-Certifire for every one sent in.
Children's Burns Trust is a national charity working to prevent burn and scald injuries happening to children in the UK via prevention and awareness campaigns to schools, support services and individuals. The charity is dedicated to providing rehabilitation support to burn and scald injured children and their families and receives no Government support, relying solely on donations to continue its invaluable work.
Alison Tweddle, operations manager of the Children's Burns Trust, said:
"Together with other supporters of the campaign, Children's Burns Trust has pledged its support to help engage and educate people, helping property owners and the wider building industry understand the importance of the correct use of fire doors, from supply right through to maintenance."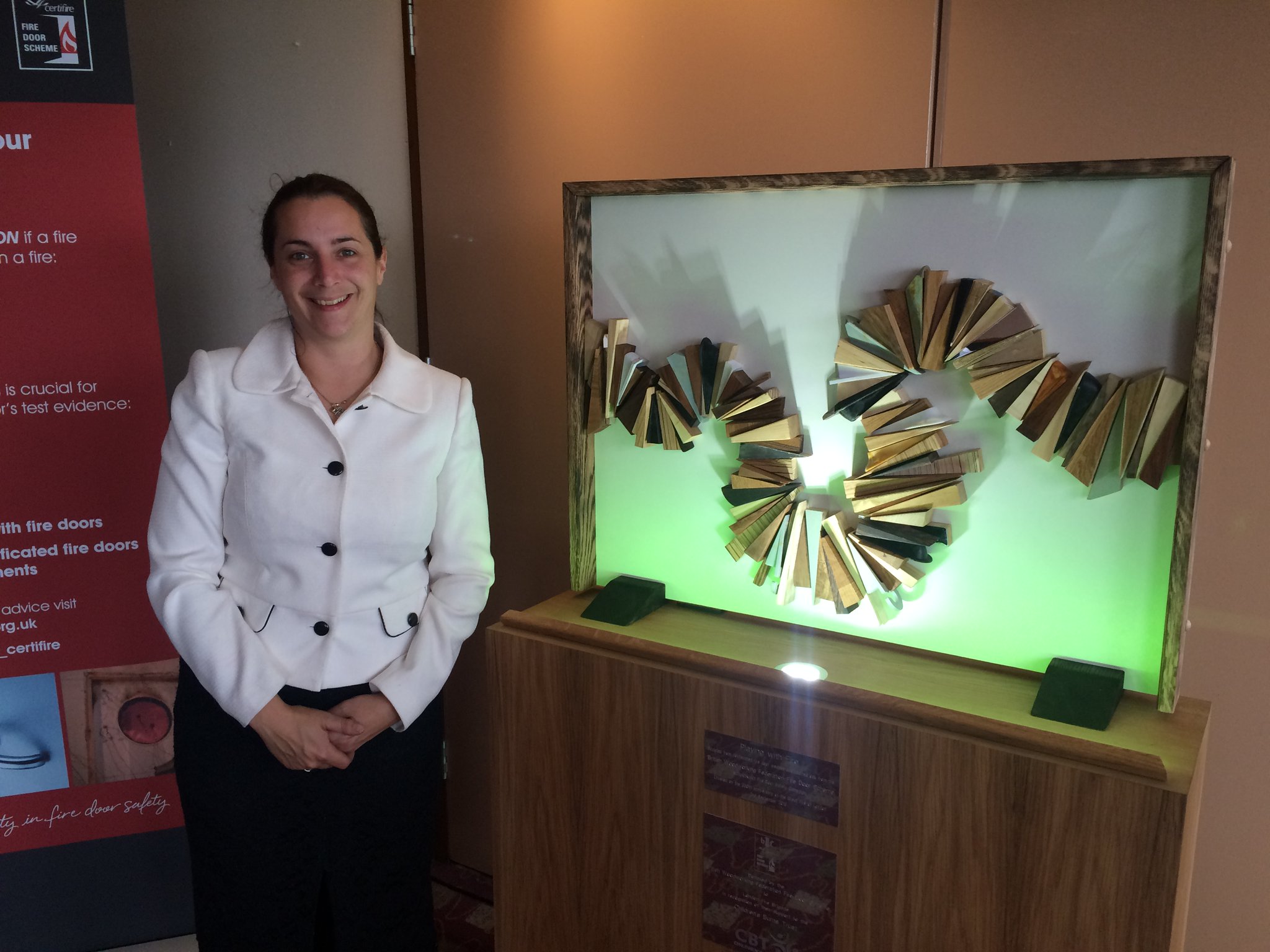 Scheme manager Hannah Mansell (pictured), who is also an experienced joiner, woodworking expert and artist as well as a trustee of the Children's Burns Trust, created a poignant sculpture from these wedges. The line of wedges echoes the line of the Thames, and reminds us of how easily fire safety could again be compromised in the capital.
As David Oldfield explained:
"We all enter buildings every day that have doors wedged open, which in the event of a fire wouldn't close and compartmentalise that area. We have a job to do to turn around decades of neglect in our building stock. Educating the building owners and occupiers.
"Fire Doors are life saving devices as would be a fire extinguisher or smoke alarm, and they only work correctly when installed with third party accredited components, but also maintained and used correctly in their operation – this is why I think the integration of fire door inspections, and the role it will play now and in the future is becoming more important.
"Our cities are growing, not only in size, but reaching to the skies as we squeeze every last drop of land for housing, commercial and transport links throughout all major cities. In this evolving landscape, the vital role of fire doors and other life critical elements of a building cannot be underestimated."
The sculpture created by BWF-Certifire was presented to Andy Hearn, assistant deputy commissioner fire safety management at the London Fire Brigade, in recognition of its support for the Children's Burns Trust.
To find out more about Fire Door Safety Week and the #ClickItKickIt campaign, go to www.firedoorsafetyweek.co.uk
ENDS