Fire Door Inspection and Maintenance
Fire doors should be regularly inspected for damage that may prevent the door from performing in the event of a fire. This may form part of the risk assessment for the building. Any issues should be fixed as soon as possible using compatible, correct fire rated components. The selection of suitable components is supported by the Fire Certificate and door schedule.
To check compatibility of components, always check the Fire Certificate data sheet or contact the fire door manufacturer. By not using compatible components as listed on the Fire Certificate, fire certification of the door will be invalidated.
Frequency of Inspection
Periodic checks should be carried out at least once every six months
Newly occupied buildings may require more frequent checks in the first year of use • Doors where traffic is high are likely to be more susceptible to damage and should be checked more frequently than other doors in the building. E.g. once per week/month (depending on usage)
What the law says about Fire Door Inspections
Article 17 of the Fire Safety Order makes it a legal requirement to ensure that fire resisting doors and escape doors are correctly installed and adequately maintained in order for them to be fit for purpose. The authorities have the power to enforce the Fire Safety Order and do prosecute or even close buildings down where breaches are discovered. Building owners need 'competent persons' as referenced in the Fire Safety Order to help them comply with fire door regulations.
Do fire doors need maintenance?
Yes, as with any other life-saving product, a fire door should be checked regularly to ensure it functions correctly and is ready to use. It should be considered in exactly the same way as testing a smoke alarm or a fire extinguisher.
Any slight alteration to the door or its surroundings can affect the performance of a door.
A maintenance checklist is available to ensure you check all of the items correctly. Click here to view our simple video checklist – (Opens new window)
Remember, you must maintain doors correctly and can be prosecuted under the Regulatory Reform (Fire Safety) Order if you fail to do so.
Fire Door Inspection Scheme (FDIS) – How to prove competency when inspecting fire doors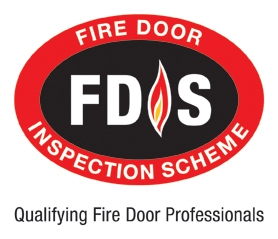 FDIS education program provides the route to becoming a competent person to inspect fire doors.
Building owners need 'co
mpetent persons' as referenced in the Fire Safety Order to help them comply with fire door regulations. The FDIS education programmes provide the path
to becoming that competent person.
The FDIS is the first such scheme in Europe. FDIS transform people's knowledge about how and why fire doors work and the potential dangers of getting it wrong.
FDIS seeks to:
Help improve safety and save lives through creating a new pool of expertise and competence to help those with legal responsibilities under fire regulations
Provide a vital new resource to help the 'Responsible Person' complete fire risk assessments for the premises they manage
Raise awareness of defective fire doors and the potentially tragic consequences of leaving these unchecked
The FDIS is delivered by the British Woodworking Federation (BWF) and the Guild of Architectural Ironmongers (GAI) – both leading authorities in their fields. FDIS provides: