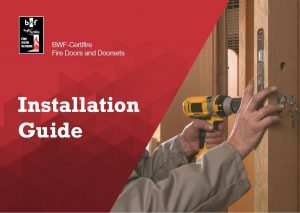 Installation of fire doors is as life critical as the product specification itself and should only be carried out by someone who is competent, has been specifically trained to install fire doors and understands their responsibilities in getting it right (and ideally as part of a third party certificated process).  Fire doors that are incorrectly installed and fitted with incompatible components invalidate certification and will not provide adequate protection for occupants or the building.All fire doors supplied through the Fire Door Alliance are provided with installation instructions that are specific to the product. Installation methods and materials can change depending on a number of factors, including product type and installation environment and so it is vital that these are referred to and adhered to.
Key things to remember when installing a fire door:
Any individual fitting a fire door should be fully trained and competent to do so
Look for a label or a plug to show that the door is certificated and check the instructions/certificate supplied
Essential Ironmongery such as locks, latches, closers and hinges MUST be CE marked, firmly fixed with no missing screws and compatible with the door leaf's certification.
The choice of frame/lining/casing and intumescent/smoke seals should also be compatible
The instructions on the door – they should be followed to ensure correct installation
The frame specification – should be correct for the door's fire rating
The Building Regulations – are you following ALL of them correctly
Apertures ONLY from Licensed Converters – DO NOT cut apertures on site.  Cutting apertures for glazing and air transfer grilles will make certification VOID as will trimming the door more than is permitted or planing off certification markings
The gap between door and frame at the top and sides should be 2-4 mm and the threshold gap as per manufacturers instructions (typically around 8-10 mm) – the certificate will include details of this
Ensure any voids between door frame and wall are tightly packed with mineral wool
Check the certificate to ensure that you are only using compatible ironmongery (hinges, closers etc) and intumescent seals (in all the right places)
Once complete. check that the closer shuts the door onto the latch from any position
The BWF Fire Door Installation Guide includes more detailed guidance and a range of handy checklists, it can be downloaded here 
You can see our top tips for installing fire door video here:
You can search for a Certificated Fire Door Installer on this independent Registered Installer website.
How do I fit glazed or non-glazed apertures in a fire door?
In some situations 'glazed vision panels' or 'glazed apertures' are required to be added to the door to allow for additional light or vision of the other side of the door.  Non-glazed apertures may be required in the case of louvre panels or air transfer grilles.
It is vital to remember that the addition of ANY apertures will seriously affect the performance of the door unless it is undertaken ONLY by companies that are licensed and approved to carry out this type of work to agreed procedures.  Cutting and glazing apertures must NEVER be undertaken on site and will negate the door's test certificate.
You can use our BWF Fire Door Alliance Directory to find a company who is licensed to modify doors or provide certificated doors with apertures.
Installation training
The British Woodworking Federation (BWF) has developed a new qualification specifically to target the installation of fire doors in the UK. – the course focusses on individual competency and enables endorsement as a Fire Door and Doorset Installer on the CSCS Card.
The course is designed to be a practical introduction to installing fire doors and will cover a range of topics including: the fitting of fire doors, fire door frames and linings; understanding and fitting of fire door ironmongery and seals; the inclusion of apertures and associated fire regulations related to the fitting of glass; and the effects of use on fire door performance.
The qualification will be available as an optional unit for apprentices initially via the NPTC Group of Colleges (although BWF is actively working to grow the network of suppliers) as well as a two to three-day course and assessment option aimed at experienced tradespeople. It will enable individuals to work towards and achieve unit 358 'Installing fire resisting timber door assemblies and doorsets in the workplace'. Once achieved, the unit can be displayed on the reverse of the Construction Skills Certification Scheme (CSCS) card, which is used to demonstrate that individuals working on construction sites have the required training and qualifications for the type of work they carry out.
To access more information on the course via NPTC, click here.
Why BWF has worked to develop a new Fire Door Installation training qualification.
Why a new Fire Door Installation Qualification will help to improve the market.
Suzannah Nichol, Chief Executive of Build UK said, "The correct installation of a fire door is essential for protecting lives, property and businesses. This new qualification, developed and launched by the British Woodworking Federation and NPTC Group of Colleges will support the industry and those setting out on their career within construction to promote and ensure high standards of fire safety.   It is also a great example of how our industry and learning institutions can work together more effectively to fix genuine market concerns."
John Slaughter, Director of External Affairs at the Home Builders Federation (HBF) said, "We at the HBF are delighted to be supporting the British Woodworking Federation in developing this essential guidance.  Working more effectively with the supply chain is critical to improving productivity and quality in the home building sector and this kind of collaboration between manufacturers and our members is a great example of how this can be done effectively.  The BWF Stair Scheme and the quality information that is output from this group is a very welcome support to our industry and members."