BWF Fire Door Alliance Gap Testers
The BWF Fire Door Alliance produces gap testers to support fire door checks. We developed the gap testers to help those who carry out inspections to ensure that any gaps are not so big that smoke and fire could travel through the cracks, so checking that the fire door is fit for purpose. There is a small charge for the gap testers, as a contribution towards production and delivery, and they are supplied in multiples of 10. Please note, the prices shown below are for postage and packaging to UK addresses. For P&P outside of the UK, please email firedoors@bwf.org.uk for a quote.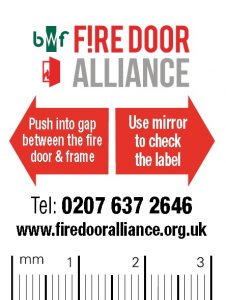 For 10x gap testers  
£8.15 + VAT = Total £9.78 (includes P&P)
For 20x gap testers
£14.15 + VAT = Total £16.98 (includes P&P)
For 30x Gap Testers 0
£20.54 + VAT = Total £24.65 (includes P&P)
For 40x Gap Testers
£28.48 + VAT = Total £34.18 (includes P&P)
For 50x Gap Testers
£34.48 + VAT = Total £41.38 (includes P&P)
If you would like to place an order for the gaps testers please complete the enquiry form below. Once the order has been received, details of how to pay will be sent to you by email.