BWF Fire Door Alliance Gap Testers
The BWF Fire Door Alliance produces gap testers to support fire door checks. We developed the gap testers to help those who carry out inspections to ensure that any gaps are not so big that smoke and fire could travel through the cracks, so checking that the fire door is fit for purpose.
Due to the very unusual and unprecedented situation this country is in, the British Woodworking Federation Offices are now closed and the team are working remotely from their homes to ensure we can continue to be on hand for our Members. Therefore we have no facilities to take any orders or post any gap testers for this current time.
We apologise for any inconvenience this may cause you and we hope we will be able to offer this service in the near future when life resumes to normal.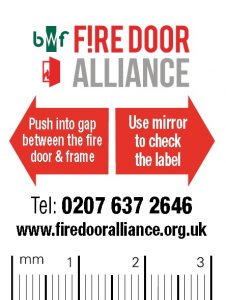 We will be updating this page as soon as we commence taking orders again.